P&Z reviewing application to build new Barnabas Road
---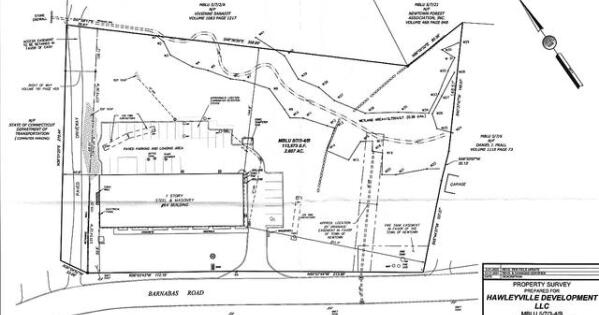 The Newtown Planning and Zoning Commission (P&Z) heard a proposal to build a commercial building in Hawleyville at its April 21 meeting.
The agenda stated that Application 22.10, by Hawleyville Development LLC, is for a special exception and amendment to the Site Development Plan, originally approved April 1, 2004, for a property located at 64 Barnabas Road, to permit the construction of a new 6,600 square foot building with associated parking, driveway, septic system and drainage upgrades adjacent to an existing commercial building.
It is illustrated in a set of plans titled "Site Development Plans, 64 Barnabas Road, Newtown, Connecticut" dated September 13, 2021 and supporting documents submitted to the Land Use Agency on March 30, 2022 – all accessible on the Department of Land Use Planning.
Steve Sullivan, Professional Engineer at CCA LLC, represented the plaintiff.
He shared that 64 Barnabas Road is 2.6 acres and has an existing 9,900 square foot office building with 29 on-site parking spaces. It has an existing well, a two part septic system and a fire tank.
"We are proposing a 6,600 square foot building divided into five tenants. No specific tenants at this point, but it would be similar uses to what's in the existing building," Sullivan said.
There would be parking adjacent to the new building, the existing building and behind the buildings, totaling 48 spaces.
He explained that the existing driveway would be moved "30 feet east" to be more centered between the two buildings. There would be a retaining wall created so as not to disturb the wetlands.
Additionally, Sullivan said that to create the new building, they will need to reroute the city's drain pipes "to better filter stormwater." The landscaping plan includes the planting of "proposed end island canopy trees", shrubs at the front of the property, and they will retain the existing wooded area.
For the erosion control plan, it includes the construction of an entrance to Barnabas Road for machinery, piping, sumps, hydrodynamic separators, the vegetated swale, retention systems and hay bales.
For lighting, Sullivan said, "Essentially we only have three lights that are meant to be pole mounted." There will also be lights under the sidewalk canopy overhang.
He mentioned that claimant Steve Nicholosi, owner of Hawleyville Development LLC, was present and could provide more information.
Nicholosi informed the commission that the proposed building would "look exactly like" the building at 23 Barnabas Road which he had previously built.
Sullivan also added to the filing, "We have buffer planting on the east side to protect this property from adjacent residential property."
Commission Questions
P&Z member Corinne Cox asked if the lights would be on "24/7", and Sullivan replied that they would turn on at dusk and turn off at dawn.
P&Z member Roy Meadows asked how much fill would need to be brought in to raise the foundations to prepare the site.
Sullivan replied that he didn't have that exact amount, but he estimates it "will be about a thousand yards."
The Land Use Agency's Deputy Director of Planning, Rob Sibley, said, "Being on the edge of the Hawleyville Design District, one of the recommendations is connectivity. I see you have the sidewalks in front of the two buildings… Is there a pedestrian crossing on the driveway between the two sidewalks?
It's been confirmed that it's not currently in the plans, so Sibley encouraged them to include it.
Another aspect raised was landscaping and he asked them to consider what trees can be planted along the street. Sibley also said the waste area will need to be fenced off.
Audience participation
Hawleyville resident Daniel Pall, who lives in the house adjacent to the site, said: "First and foremost, I'm here because I don't want a big warehouse built right next to my house. If you look at the suggested site, you can actually see that my driveway is right next to where they talk about setting up screening.
What worries him the most, he said, is that the discharge sewer would point directly to his 1900s garage.
Prall added, "I like the idea that they're going to meet the Hawleyville Design District guidelines, because the existing building on the lot doesn't meet those guidelines. More or less, for me, I'm very worried that this will have a negative effect on the value of my home.
He also mentioned he had concerns about traffic and that wildlife – which includes bobcats, deer and turkey – would be negatively affected.
Sullivan responded to Prall's comment about the water runoff saying it won't affect his garage.
P&Z Chairman Dennis Bloom said he wanted the public hearing for the application to remain open and wanted to come out to view the property. The committee was in favor.
The next regular P&Z meeting will be Thursday, May 5 at 7 p.m. at the Edmond Town Hall Theater. This meeting will include the continuation of a public hearing regarding a warehouse in Hawleyville that has received a great deal of community attention in recent weeks.
For more information about the Newtown Planning and Zoning Commission and upcoming meetings, visit newtown-ct.gov/planning-zoning-commission.
Journalist Alissa Silber can be reached at alissa@thebee.com.
The Newtown Planning and Zoning Commission considered Application 22.10, by Hawleyville Development LLC, to construct a 6,600 square foot building at 64 Barnabas Road at its April 21 meeting.