Marion Seventh Avenue road construction, streetscape work continues this year
---
The first phase of the streetscape project is nearing completion, with the remainder to be completed by the end of the year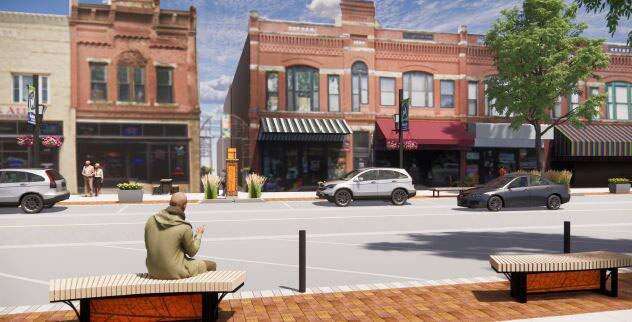 Streetscape work is shown August last year on Seventh Avenue in Marion. The first phase of the $6.9 million project is nearing completion, with the city aiming to complete the rest of the work this year. (The Gazette)
The Seventh Avenue streetscape project in Marion begins at the Seventh Street roundabout and extends east to 12th Street in Marion. The first phase is almost complete, with the project expected to be completed by the end of the year. (City of Marion)
Marion began work on her long-awaited streetscape on Seventh Avenue last year, shutting down the busy street in the heart of Uptown Marion for most of the summer.
Work includes street and sidewalk reconstruction and replacement of underground utilities, sanitary sewer, storm sewer and water main on Seventh Avenue and side streets between Eighth and 12th Streets and Sixth and Eighth Avenues.
It also includes the addition of a new Uptown Plaza on 11th Street that will extend from the city's Uptown Artway south across Seventh Avenue.
The $6.9 million project is being funded with local sales tax money and bonding through the city's capital improvement program.
What has happened since?
Most of the first phase of the project was completed last year, as evidenced by the new diagonal Seventh Avenue parking lot.
Marion Assistant City Engineer Jacob Hahn said construction would resume in March or April, weather permitting.
"We will first complete phase one and the North Plaza improvements, install planters and benches and landscaping. It's the first on the roster for early spring," Hahn said.
"Then phase two, the reconstruction of 10th Street from Seventh to Eighth Avenues, will begin," he said. "This includes the complete rebuilding of underground utilities and it will probably be a period from April to June or July."
The project has five phases, but phases two through five are expected to be completed this year and are smaller segments than last year's initial phase.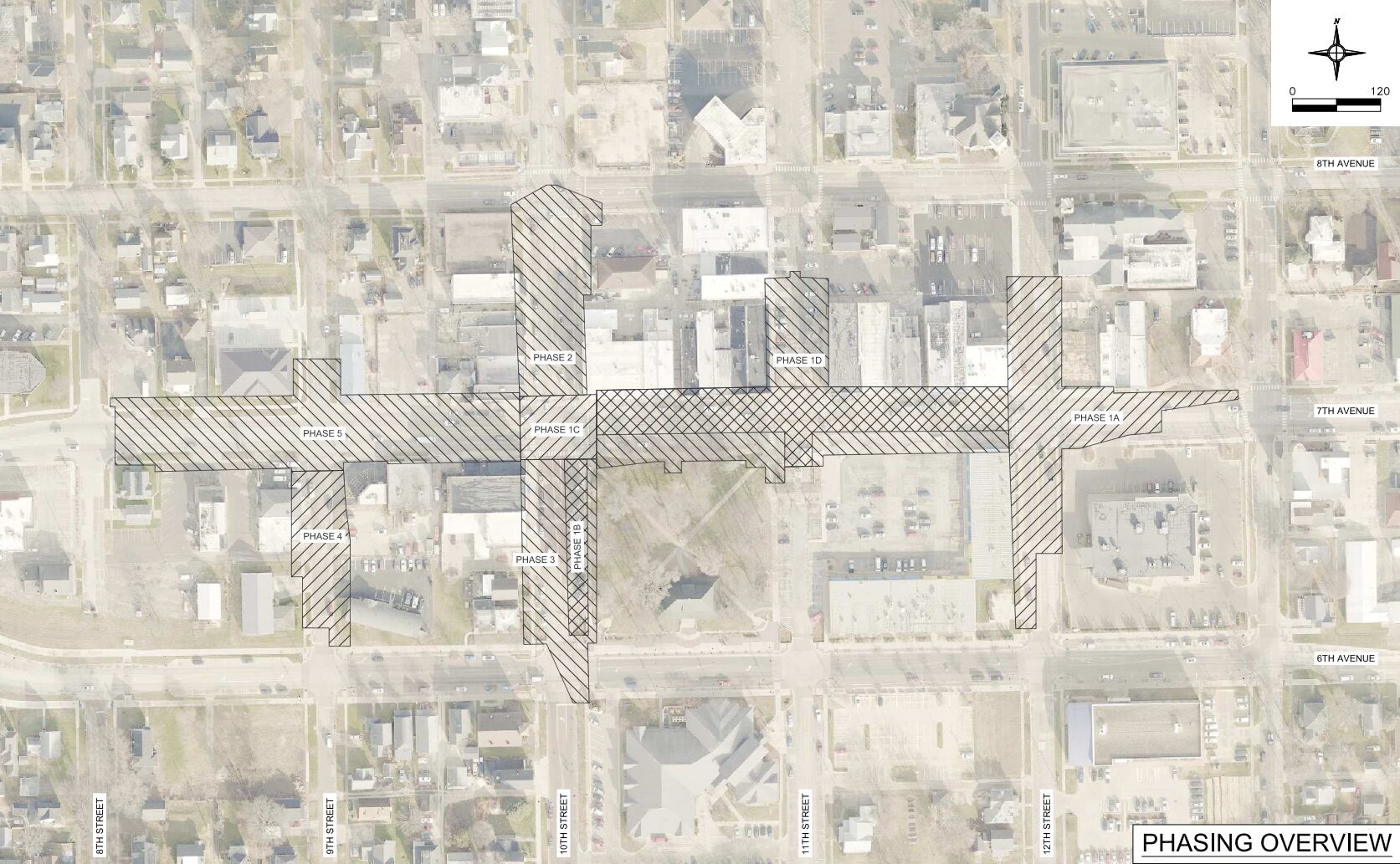 The third phase will include work on 10th Street, Sixth to Seventh Avenue. Phase four includes work on Seventh Avenue from Eighth to 10th Streets. And phase five will be on Ninth Street from Sixth to Seventh Avenue.
"The intention is to split this to minimize the effect on traffic and parking for businesses this summer, which could not have happened last summer with the first phase," Hahn said.
Uptown program director Brooke Prouty said most businesses affected by construction last year had rear entrances, due to the Uptown Artway, and used them when their front entrances were blocked by construction.
"This year we will have to be more creative and work one-on-one with businesses," Prouty said. "We will work with them on timing and marketing, but we try to keep access to businesses as open as possible."
As for the completed section of Seventh Avenue, residents can expect the new "Festival Street" to be used this year for the Farmers' Market and for the May 21 Marion Arts Festival.
"It's exciting because this year we're able to bring events back to the park, and we plan to close Seventh Avenue for many of our events, which will provide greater access to these businesses during events. ", said Prouty.
Comments: (319) 398-8255; gage.miskimen@thegazette.com