Dive into the "Spamalot" with the Lady of the Lake, as the road production of the show heads towards Escondido
---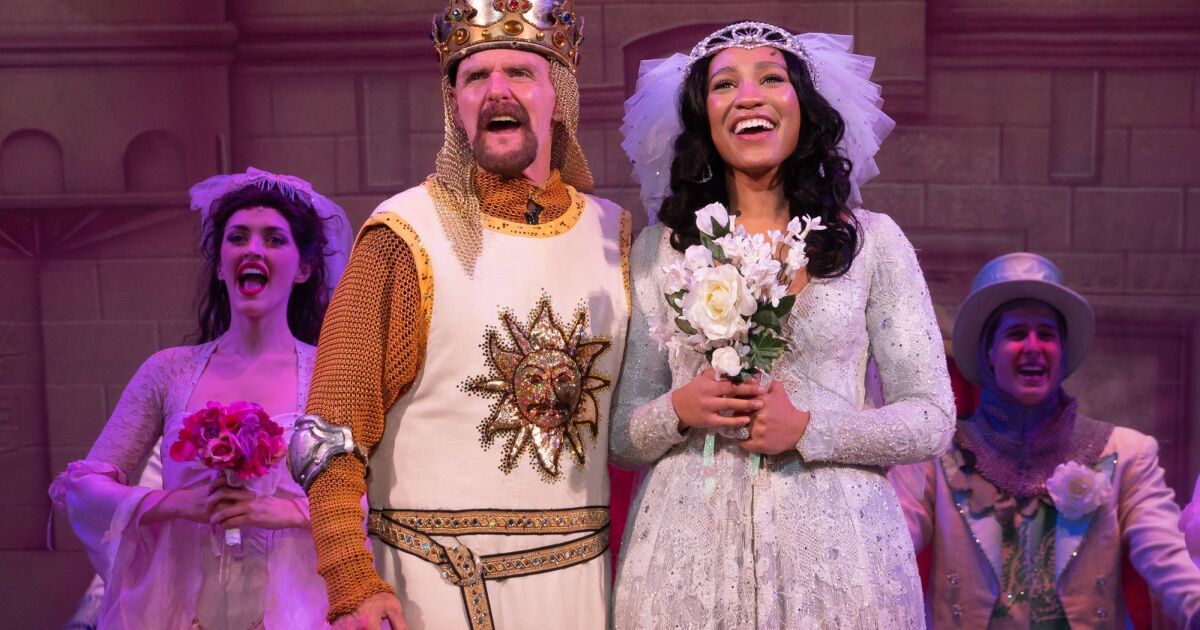 Musical theater is rich in memorable and moving feelings: "No day but today. "I could have been dancing the night away." "There is a place for us.
And, of course: "Supreme executive power stems from a mandate of the masses, not from a grotesque aquatic ceremony!"
This bit of musical mansplaining is courtesy of an irritable medieval peasant named Dennis in "Monty Python's Spamalot", a show adapted (more or less) from the 1975 movie "Monty Python and the Holy Grail".
Dennis, of course, is completely wrong: King Arthur was in fact anointed King of the British in the comedic version of the series about the legend of Excalibur.
And the anointing one is the Lady of the Lake – who's also the only significant female character in this crazy farce about a bunch of road-traveling dudes who think they're brave knights.
In the new touring version of "Spamalot" hitting the California Center for the Arts, Escondido, next week, Leslie Jackson plays the Lady – a role that won a Tony Award for San Diego-raised Sara Ramirez at the premiere of the musical on Broadway in 2005..
And Jackson is proud that his character is giving Arthur a healthy, healthy boost – towards his goal of finding the Grail, of course.
"She's a strong, independent woman," says Jackson, laughing. "And that's fun too, because she's the one who kind of helps guide and push Arthur around a bit."
"She's strong and she's all over the place – but in a really fun and awesome way."
Also everywhere: the musical styles Jackson has to tackle for the role.
"It's definitely a challenge," she said. "I feel like I go through so many different styles of singing. She changes her hat so many times – it's everything from super-legitimate opera to a lounge jazz-club singer, to a soprano-gospel thing with "Find Your Grail".
"And then in Act 2, she has her big kind of song on her belt explaining why she hasn't been on stage for a long time."
It would be "The Diva's Lament", in which the Lady has a fun little moment to break the fourth wall with lyrics such as: What happened to me? / It was exciting at first. / Now we are halfway to act 2 / And I have nothing to do yet.
As the story progresses, Arthur and Co stumble upon the legendary Camelot, where they come to a thoughtful conclusion: "This is a silly place."
Likewise, Jackson means it in the most affectionate way possible when she says of "Spamalot": "It's just a silly show."
"Monty Python Spamalot"
When: 7:30 p.m. March 18-19
Or: Concert Hall, California Center for the Arts, Escondido, 340 N. Escondido Blvd.
Tickets: $ 34- $ 64
Telephone: (800) 988-4253
In line: artcenter.org, spamalotontour.com
jim.hebert@sduniontribune.com
Twitter: @jimhebert