Buhari receives the Babacar Ndiaye trophy for road safety
---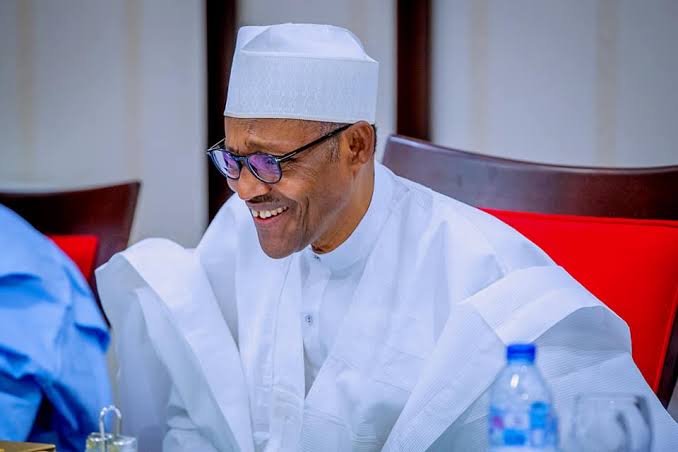 Buhari accepts announced award in 2021
By Jeph Ajobaju, Editor-in-Chief
President Muhammadu Buhari on Thursday received the Babacar Ndiaye Trophy in Abuja for "his efforts to improve road safety and air quality for road users" in Nigeria, according to organizers.
He was named the winner of the 2021 Super Prix Grand Bâtisseur for the Babacar Ndiaye Trophy, succeeding Abdel Fattah al-Sissi of Egypt, who won the 2020 award.
– Advertising –
The award is sponsored by the African Development Bank (ADB) who announced in a statement that Buhari had been named the winner at the first Africa Road Builders conference held on March 31, 2021 in Cairo, according to a report by The Guardian (Nigeria).
Fattah al-Sissi, received the award in 2020 "for his personal leadership and for the efforts made to ensure road safety and the health of the population in the context of transport".
The selection committee cited Nigeria's efforts to improve road safety and air quality for road users.
He also praised efforts to obtain Covid vaccines and to advance major transport projects, particularly in the rail sector that would ensure the optimal functioning of roads and transport.
The Babacar Ndiaye Africa Road Builders Prize is organized by Acturoutes, an information platform on infrastructure and roads in Africa, and Media for Infrastructure and Finance in Africa (MIFA), a network of African journalists specializing in road infrastructure.
– Advertising –
The selection committee includes media representatives from the five regions of Africa who draw on media reports and experts in road networks, transport and sustainable development.
The award was created in honor of Babacar Ndiaye, President of the AfDB Group from 1985 to 1995.
Buhari's acceptance speech
Buhari's acceptance speech was delivered on his behalf by the Minister of Works and Housing, Babatunde Fashola, during the 7th African Roadbuilders Conference in Abuja on March 31, 2022.
The speech is reproduced below:
It is an auspicious African day, in the capital of Africa's most populous nation.
It is a day of African pride, when the story of Africa's long-awaited Renaissance begins to unfold inside its largest country in terms of population and GDP.
It is a day of pride for the African Union and its dreams for the continent. The policies and programs that have been initiated over the years are beginning to bear fruit and results.
__________________________________________________________________
Related Articles:
Buhari as mini antichrist wasting Nigeria
Buhari slides northern Nigeria into 'Arewanistan', says Kukah
Omokri says Buhari's $1m donation to Afghanistan fuels terrorists
The EFCC as a tool for northern domination under Buhari
by Buhari Canals interview confirms its failure, says Ogebe
__________________________________________________________________
Trans-African Highway
The Trans-African Highway program, launched in 1971, aimed to connect the whole of Africa through a major system of nine (9) highways, TAH1 to TAH9 covering a total distance of 56,683 km.
The African Development Bank, a financial institution created to support African countries in their development objectives.
The African Continental Free Trade Area Agreement set up to create a unified, borderless market of over a billion people to facilitate intra-African trade.
I am delighted to report that Nigeria is playing its membership and leadership role in all these institutions and in pursuit of their objectives.
Just a few days ago in the city of Lagos, our private sector opened a 3,000 metric ton granular fertilizer company to support farmers and farmers on the African continent and beyond.
Our collaboration with the African Development Bank has been productive and the results are now manifesting in projects such as the Mfum-Bamenda Bridge that connects Nigeria and the Republic of Cameroon.
I also acknowledge the Bank's support in financing feasibility studies, consultations and pre-construction works on the Lagos-Abidjan Corridor comprising Nigeria, Benin Republic, Togo, Ghana and Côte d'Ivoire. Ivoire which is part of the Trans-African Highway No. 7. from Dakar in Senegal to Lagos in Nigeria.
I am pleased to report that the Nigerian sections of this highway are currently under construction on the Lagos-Badagry Corridor through our local financing institution such as the tax credit scheme introduced by Executive Order No. 7; and in collaboration with the Lagos State Government.
I am able to report that apart from Trans-African Highway No. 7, Nigeria is also connected by Trans-African Highways No. 2, Algiers to Lagos and Trans-African Highway No. 8, Lagos-Mombasa.
The East-West crossing of Nigeria across the second Niger River Bridge to be completed this year is a major Nigerian investment on the Lagos-Mombasa Trans-African Highway, as is the Enugu-Abakaliki Highway at Mfum.
The 375 km from Abuja to Kano which are currently under construction constitute the bulk of Nigeria's Trans-African Highway No. 2; Algiers to Lagos.
Highways across Nigeria
In addition to these trans-African connections, we are rebuilding, expanding or replacing strategic highways and bridges across our country.
The Apapa-Oworonshoki Highway in Lagos is strategic for trade and business facilitation to support our busiest and most important seaport at Apapa and Tin Can Island.
The Suleja-Minna highway is critical to our petroleum distribution network and access to the strategic petroleum product depot in Niger State; and it is grabbing attention, as the Calabar-Itu-Odukpani unlocks access to agricultural products and supports mining and extractive activities for construction, in South-South and South-Eastern Nigeria…
These are just examples of more than 13,000 km of construction, expansion and rehabilitation of roads and bridges nationwide.
They have given a major boost to the growth of our economy, keeping people working; drive a supply value chain, driving productivity in quarries, cement works, steel mills and oil and gas sectors for lubricants, fuels and bitumen.
Our most recent GDP results of 3.40%, the strongest in the last 7 years, clearly show that the construction and related subsectors of the economy have been among the best performers of the surge. of growth.
Obviously, investing in infrastructure is good for the economy.
By building roads, we build economies.
The founding vision of African leaders is coming to fruition, evidence of the African Renaissance is on display today in Nigeria.
The Babacar Ndiaye 2022 Trophy during the 7th Edition of Africa Road Builders symbolizes this Renaissance.
On behalf of the Federal Republic of Nigeria, I accept the Africa Road Builders Award for the hope, prosperity and progress it symbolizes.